Putting faces on the children who are, or have, battled disease in Baldwin County, Alabama
"Not only so, but we also glory in our sufferings, because we know that suffering produces perseverance; perseverance, character; and character, hope. And hope does not put us to shame, because God's love has been poured out into our hearts through the Holy Spirit, who has been given to us."  Romans 5: 3 -5
Caroline Coleman Richmond of Fairhope was diagnosed with t cell Acute Lymphocytic Leukemia on November 29, 2011. Her white blood cell count at diagnosis was about 650,000. She presented with a stroke. She had started feeling poorly about two weeks before diagnosis. Caroline developed a rare histio response called hemophagocytic lymphohistiocytosis within a month of being diagnosed. She had severe t cell dysfunction. Caroline died January 4, 2013 at age 14.  She attended Fairhope Middle School. She loved her friends, video games, nature and art.
Clayton Ladd of Fairhope was diagnosed with Stage IV high risk neuroblastoma on November 22, 2011. He underwent six rounds of high dose chemotherapy, three surgeries, 14 rounds of radiation, and is currently doing antibody treatments that will continue for the next two years. After Clayton's diagnosis, his parents, George and Rachel Ladd, founded The George Clayton Childhood Cancer Foundation (GCCCF), a 501(c)(3) Public Charity. The foundation is dedicated to raising awareness about pediatric cancer and raising funds in hopes of funding cutting-edge research to provide new treatment options for children.
Emma  Schlesinger of Fairhope was diagnosed with acute myeloid leukemia at age 7 in 2000. She underwent chemotherapy and a bone marrow transplant, receiving bone marrow from her twin sister, Sarah. The transplant was successful and today treatment remains in remission.

Frances Grace Hirs was diagnosed with ALL leukemia 2003.  She  has relapsed twice and in  August, 2013 underwent a bone marrow transplant.
On January 8, 2014 Hunter Lanford of Orange Beach was taken to the ER for extreme fatigue and leg cramps. Shortly after, the young man was being admitted to the hospital, he was diagnosed with leukemia.

In December 2006 Ivee was diagnosed at 7 months of age with Stage 3 Anaplastic Ependymoma, a rare and aggressive brain tumor. 98% of the tumor was removed surgically which left her with many deficits, some that still plague her today, such as a paralyzed vocal chord, lack of coordination and balance, and the inability to eat orally. She underwent 6 months of chemotherapy and 33 doses of radiation.  Ivee relapsed with ependymoma in January 2011 at the age of 4. She had another brain surgery to remove the entire tumor and was treated with 30 more doses of radiation. The treatments left her with left side weakness, impaired hearing and eye sight, and with chronic sinus and pulmonary issues. She has had a total of 16 surgeries since this journey began, and has made strides to be a normal child. She still depends on constant medical care for health issues and returns to St. Jude Children's Research Hospital every 6 months for scans and check ups.  She is a miracle and we are thankful for her life every moment of everyday!
When Jenny Biggs was 14, she suffered from repeated severe migraine headaches, or so she thought. When the Fairhope teen's pain became too much to bear, she underwent a CT Scan, which revealed an egg-sized tumor in her brain. She was immediately sent to USA Children's and Women's Hospital in Mobile for emergency surgery on February 19, 2011. Jenny's tumor was a cerebellar astrocytoma which had impeded the proper flow of spinal fluid, building enormous pressure on her brain. Upon removal of the tumor and insertion of a shunt to relieve that pressure, she formed a huge blood clot in an alternate area of her cranium which caused her brain to move almost an inch over from the midline. A second emergency surgery was immediately performed. Jenny's two brain surgeries left her unable to walk, talk or use her dominant right hand. But after months of intensive PT, ST and OT, Jenny has recovered to the healthy Fairhope High School senior that she is today.
Jensen Daniel Byrd was born on April 7, 2005. He was a happy, healthy, 7 lb 11 oz boy. He stole the heart of all that met him with his big blue eyes, long eyelashes, and beautiful smile. When he reached the tender age of 2, he was diagnosed with stage 4 Neuroblastoma and had an unfavorable outcome. From December 2007 until April 2009 he underwent numerous rounds of chemotherapy, radiation, surgery, stem cell transplant, multiple blood transfusions and painful procedures and tests. He never questioned the treatments for it was all he knew and he basically grew up in a hospital.
He relapsed for the first time in April of 2009 immediately after a 10 day Disney trip. He underwent additional chemo, radiation, and surgery and began to travel to New York for experimental therapy. While on a treatment protocol, he relapsed in the brain in December of 2009, underwent brain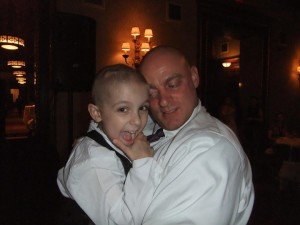 surgery, more chemo, and more radiation. His final relapse was in August of 2010 at which point the  tumors had spread so rapidly and unnoticeable that there was no treatment that would save his life. He passed away on August 24, 2010 just 15 days after we were given the dreaded news. We now strive to make sense of his short life here on earth and to ensure it was not in vain.
Kayla Campbell was diagnosed with Ewing Sarcoma at age 6 in 2006.The Fairhope girl underwent several months of treatment and surgery and is now in remission.

At six months of age, Kena-Marie Chastidy Spivey  was diagnosed with a Stage 3 germ cell/yolk sac tumor on her uterus and cervix on July 7, 2014. These tumors are so rare that account for only 3 percent of all childhood cancers. This is what her mother Dawn said about her baby: "I prayed for a little girl after having a miscarriage on December 16, 2011 and 2 years to the exact date of losing one baby, God gave us Kena-Marie Chastidy Spivey. Kena was born December 16, 2013. She was like all children- a special miracle but Kena was more than that to our family before she was even born. We named Kena after my Uncle Ken who passed away from cancer and her middle name after our friend's 14 year old daughter who suddenly passed. Shortly after Kena was born she began to have blood in her stool. Her pediatrician did nothing. After 2 months of bleeding, my Mom suggested we get a 2nd opinion. Her new pediatrician took her off breast milk and started her on formula. That actually seemed to work but then she started having blood in her urine. That was treated with antibiotics guessing it was a UTI/bladder infection. The bleeding continued so the Dr said we needed to 
have an ultrasound-it's now May. The end of June a urologist finally schedules an ultrasound. That ultrasound led to an immediate ct scan. Just by looking at the 2, the radiologist knew something wasn't right. Everything went so fast after that-Dr appointments, tests, biopsy and then a medi-port. Kena was officially diagnosed with a Stage 3 germ cell tumor/yolk sac tumor on her uterus and cervix measuring around 4 cm on July 7, 2014. She started chemo on July 14, 2014 and life has changed beyond anything you could imagine. Kena is the happiest baby I have ever seen in my life-Always. She is a precious gift from God. At this time I ask for prayers and to spread Kena's story so that more people can pray for her. God answers prayers and miracles happen every day. If we all pray, God will heal Kena and take this cancer from her body. God bless you all!" Visit her Facebook page at https://www.facebook.com/prayersforkena/info
Madalyn McCormick, a 17-year-old junior at Foley High School, is battling stage 2 Hodgkin's Lymphoma.  She was diagnosed on December 19, 2013.
Michael Daves of Fairhope was a senior at Bayside Academy in Daphne when he was diagnosed with is Acute Myeloid Leukemia (AML) on January 9, 2013. He was 18. Daves spent 152 days at USA Women's and Children's Hospital in Mobile undergoing chemotherapy treatments. He is now in remission and off treatment and attends University of Mississippi where he is studying engineering. Michael's dad, Mike Daves, said it was his nurses, family, friends and mainly his positive attitude that got him through. "From the first day, when he told me that he thought God was testing him. That made me strong and from that moment forward from January 10 to now, his faith and his attitude has just been what has gotten him through this," said Mike Daves. Michael had plans of attending the U.S. Naval Academy after graduation. His illness put his military career on hold, but he hasn't lost sight of his dream. "He still wants to apply and he is still going to try and get in one day," Mike Daves told ESCHP in November 2013.
Patrick Houston, a Foley High School student from Summerdale, Ala., was diagnosed on January 15, 2014 with acute lymphoblastic leukemia. This began 3 1/2 years of chemotherapy treatments at USA Children's and Women's Hospital in Mobile.
Richard Arp of Foley was diagnosed with acute lymphocytic leukemia in 2007 at age 5.    He finished chemo in 2010 and remains in remission. Read more about Richard
Sarah Pacey was diagnosed with acute lymphocytic leukemia on July 16,
2004 at age 4. At the time of diagnosis, she was a very sick  little girl: she had 80 percent blast cells in her bone marrow and 98 percent blasts in her peripheral blood. Doctors said she was a day away from her organs shutting down when she was admitted to Sacred Heart Hospital's ICU in Pensacola. But during that first two-week hospital stay, Sarah enjoyed a miraculous recovery. After only nine days of chemotherapy, doctors could not find a single cancer cell in her body. Nevertheless, Sarah had to endure 2 1/2 years of aggressive chemotherapy (a high risk protocol because of her high level of tumor in her blood), 27 spinal taps and two surgeries. Today, Sarah is a happy teenager who make all A's, plays basketball and the clarinet and who constantly makes us laugh with her sense of humor. She is a determined kid with a great spirit and huge heart. She is an amazing girl.
Shelby Byrd of the Bon Secour Ala.  area was diagnosed with acute lymphoblastic leukemia on January 13, 2014. The daughter of Scot Byrd and Jessica Brandon, Shelby is undergoing chemotherapy at USA Children's and Women's Hospital in Mobile. Shelby also is fighting an infection in her brain and a rare disorder brought on by chemotherapy drugs.
On August 23, 2013, Shephard Hall of Fairhope, a twin, was diagnosed with acute lymphocytic leukemia. He is currently undergoing chemotherapy treatment. He can be found on Facebook as Warrior Shephard.
On Sept. 13, at USA Childrens and Womens Hospital, our family was shaken with the devastating news that our then 2 year old daughter Starla had been diagnosed with a rare leukemia in children known as Acute Myeloid Leukemia. We immediately began Induction I of chemotherapy on September 14th. Starla went into remission during Induction I of chemotherapy, and began another round of chemo on October 27, 2011. On December 27, 2011 Starla was placed in PICU to have medication because the chemo had caused damage to her heart. On January 3, 2012 Starla went into cardiac arrest after a seizure, She coded, and after 5 min. of chest compressions she was stable… her heart function had dropped to a deadly 6%. After being placed on ALL of the support medication available at the maximum limit, she was placed in a medically induced coma and on life support. we were told that Starla would not make it…there was nothing more medically that could be done, people just dont make it after such a low heart failure. This prayer page went from a little over 500 prayer warriors to over 15,000 in a matter of days. Starla's situation began to change daily.
In between the days of Starla being intubated, The Alabama Crimson Tide played in the BCS National Championship game…Team Starla supporter, AJ McCarron, quarterback, wore his Team Starla bracelet during the game, leading the tide to the 14th National Championship title and becoming the MVP of the game. The bracelet was given to AJ and his brother after a Christmas Eve visit to the hospital. This grasped the attention to local news stations, newspapers and etc, as we were contacted to discuss the Christmas Eve meeting with AJ with the news and newspapers…we accepted the interview and also asked for prayers for Starla. Starla made HUGE progress, shocking doctors and nurses. She was weaned from support meds, and extubated on January 22, 2012, the same night that a candlelight prayer was held at a park near the hospital. Several members of the community gathered…we continue to praise God for our miracle. On February 8, 2012 Starla was moved from the PICU and started round 4 of chemotherapy on February 9th!!!
Trey's family learned he had cancer in January 2000. He was 15 months old and his diagnosis was neuroblastoma. He was treated with surgery only at St. Jude. His tumor was on his adrenal gland and wrapped around his leftkidney. He lost that kidney as a result of the cancer. Trey still has yearly check-ups at St. Jude. He turned 15 on October 27, 2013. He is a freshman at McGill Toolen and plays baseball.
Tyler was diagnosed at age 7 with stage 4 neuroblastoma. He lost his battle with cancer at age 11 on July 7, 2011.